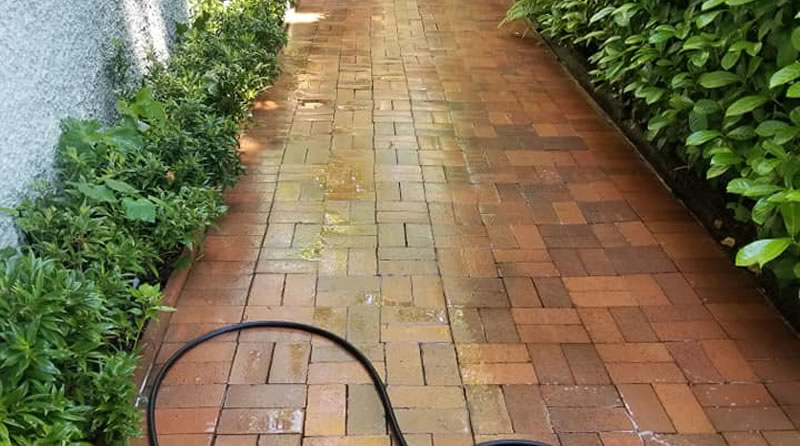 Pressure Washing & Power Washing Services
We clean concrete, driveways, and building exteriors
Does your driveway look more like an old abandoned road then it does a driveway?  Is the exterior of your building dirty and covered with dust, grime, dirt, or algae?  Power washing or pressure washing as it's also called can quickly restore the like new appearance of exterior surfaces on buildings, concrete, brick, or stone.
Copper Mountain Painting is a full service painting and pressure washing contractor based out of Princeton, BC and serving the Okanagan-Similkameen, South Okanagan areas.  With over 20 years of combined experience in the painting and power washing industry you can feel confident that you're hiring a team of proven professionals.  We specialize in power washing concrete surfaces and building exteriors.  We use 4000 PSI (4 gallon per minute) commercial grade power washers to make short work on the dirtiest surfaces.   From your driveway to a retaining wall to a patio or walkway we'll be able to restore your surfaces to a like new appearance once again.
Power Washing Services We Offer:
Power washing driveways
Power washing sidewalks
Washing vinyl siding
Washing house exteriors
Washing building exteriors
Power washing metal siding
Power washing concrete surfaces
Power washing decks and patios
Why Should You Power Wash Your Home Or Building?
Constantly exposed to mother nature and her elements the exterior of your home or building is always vulnerable. Mold and mildew spores, algae, pollen, tree sap, bird droppings, soot, and other pollutants blow through the air and attach themselves to the siding and other surfaces around your home or business.
Over time, dirt and grime build up, the mold, mildew and algae start to fester and spread.  Patios, sidewalks, driveways and decks can literally become slippery and dangerous when wet.  Quickly this starts to degrade not only the appearance but the integrity and value of one of your biggest investments.
Soft low pressure washing and pressure washing both have advantages and differences, while pressure washing is normally reserved for tougher tasks where high pressure is required such as concrete driveways and sidewalks and in certain instances like paint prep and decks, soft house washing is always the safest and best bet for cleaning your homes siding.
Hiring an experienced contractor proficient in utilizing both systems will ensure superior results.
Why Choose Copper Mountain Painting To Power Wash Your Property?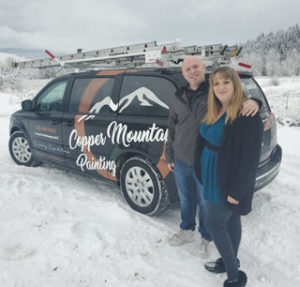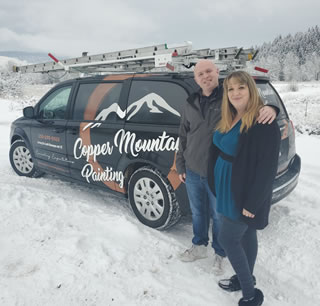 When you choose Copper Mountain Painting to pressure wash your exterior surfaces you're partnering with a team of professionals.   Both of us (Nikolas and Lisa) have over 20 years combined experience in the painting, coating, and pressure washing industry.
We have a solid track record of happy and satisfied customers, many of them calling on us again and again for their painting and exterior cleaning needs and also referring us to their friends and family.  It's through the quality of our work that our business continues to grow.
Owners (Nikolas Hastein and Lisa Machon) are present on every project and take great pride in the work that Copper Mountain Painting completes in our customers homes.  We care about your pressure washing project and we want to make sure we do the best job we possibly can.  We provide unbeatable value, we keep your home and property spotless, our pricing is fair, and the quality of our pressure washing work is unmatched.
If you'd like to schedule an estimate for pressure washing then give us a call (250) 295-5925 or fill out our online contact form and we'll get right back you.