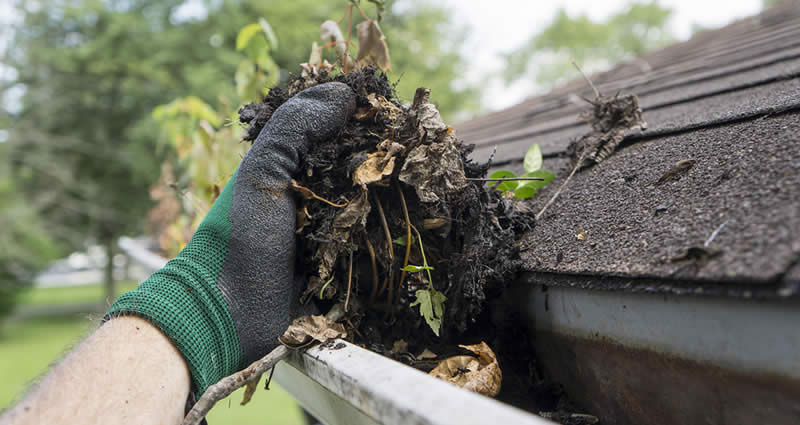 We Clean Gutters In The Nicola Valley & Okanagan
The gutters on your home or building work to channel away the excess run-off water from your roof and away from your foundation via the downspouts and into whatever drainage system you have in place.  When your gutters become clogged with sticks, leaves, debris and even asphalt shingle roofing granules from an older roof this impedes the flow of water and your gutters can get backed up.
Backed up gutters can lead to roofing problems as the gutter fills up, the water can work it's way backwards and in behind every little nook and cranny along your roof line.  Water damage in a home because of a lack of homeowner maintenance doesn't usually go over well with insurance companies.  Keeping your gutters clean is one of those regular home maintenance tasks that is good cheap insurance against expensive repairs in the future.
Copper Mountain Painting specializes in exterior cleaning services including gutter cleaning.  We specialize in cleaning gutters of all the leaves, pine needles, roofing granules and other organic debris that can clog your gutter system over the course of a season.  We also specialize in cleaning the gutters on two story or even three story buildings if you have a larger home.  If you own a home in our service area that you don't live at full time and need a local company you can trust to complete maintenance tasks like cleaning gutters once or twice per year then give the Copper Mountain Painting team a call today: (250) 295-5925.
Gutter Cleaning Services Nicola Valley & Okanagan
Gutter Cleaning
Gutter Washing
Exterior Gutter Cleaning
Downspout Cleaning
Power Washing Gutters
Gutter Washing Services
Cleaning the inside of your gutters from all the organic debris is important but what about the exterior of your gutters?  When your gutters haven't been cleaned or get backed up, they will get "tiger striping" down the face of the gutter from the dirty water that is constantly running out of the gutter.
Left unchecked the gutter will very look dirty and begin to attract other organic growth such as algae, mold or moss which can look even worse.  This is a common problem with white or light colored gutters and on homes that have lots of tree cover surrounding them.  This is where gutter washing comes into play.  Using a pressure washer, or by hand we can scrub and wash the exterior surfaces of your gutters so they look shiny and new again.
Gutter washing involves cleaning both the inside and outside of your gutters and restoring them to an almost like new condition.  Not only will your gutters be able to function and channel water away from your home at their full capacity but they'll look great and accent your roof with a nice clean line.
Cleaning Gutters Safely
Cleaning the gutters on a home is one of those jobs that often gets put off.  Maybe you don't have a large enough ladder, maybe your roof is too slippery, maybe you don't feel safe, maybe you can't reach the 2nd story of your home.  If you don't have the right equipment, or you need someone to maintain a rental or vacation property or you just don't have the time to clean your own gutters then you need the help of a professional.  Copper Mountain Painting has the proper equipment and training to tackle gutter cleaning at height.
Copper Mountain Can Clean Your Gutters!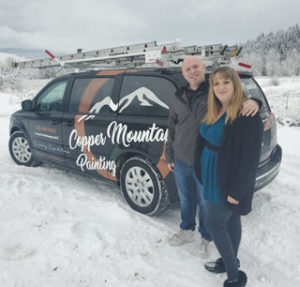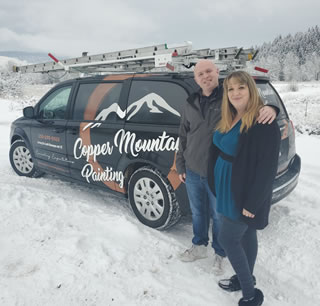 When you choose Copper Mountain Painting for exterior home maintenance like our gutter cleaning service, you're partnering with a team of professional painters.   Both of us (Nikolas and Lisa) have over 20 years combined experience in the painting and exterior cleaning industry.
We have a solid track record of happy and satisfied customers, many of them calling on us again and again for their painting needs and also referring us to their friends and family.  It's through the quality of our work that our business continues to grow.
Owners (Nikolas Hastein and Lisa Machon) are present on every project and take great pride in the work that Copper Mountain Painting completes in our customers homes.  We care about your gutter cleaning project and we want to make sure we do the best job we possibly can.  We provide unbeatable value, we keep your home and property spotless, our pricing is fair, and the quality of our finished work is unmatched.
If you'd like to schedule an estimate for gutter cleaning then give us a call (250) 295-5925 or fill out our online contact form and we'll get right back you.