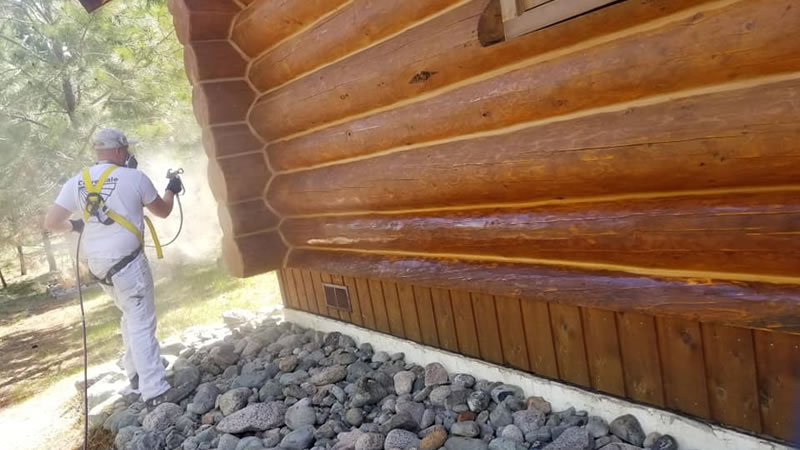 Does Your Log Home or Log Cabin Need To Be Refinished?
We specialize in sand blasting, chemical stripping, sanding and restoring the appearance of your logs.
Living in an elegant log home or a log cabin is a dream come true for many people. Log homes are impressive and their natural beauty is without question. However, there is a certain amount of maintenance required to keep your log home in good condition and looking its very best.  In BC we can get a variety of weather like sun, rain, and snow, as well as a variety of insects, that can eventually degrade the appearance of your log home. Routine maintenance and professional refinishing are necessary for the upkeep of any log home. Careful attention to the condition of the stain, logs and structure of the home are required to keep it looking it's best.
Copper Mountain Painting is a full service painting contractor based out of Princeton, BC and serving the Okanagan-Similkameen, Nikola valley region in B.C.  With over 20 years of combined experience in the painting and coating industry you can feel confident that you're hiring a team of proven professionals.  We specialize in painting, staining, and restoring log homes and log structures back to their original beauty.
What are the steps in refinishing or restoring a log home?
Inspection
We come out and take a look at your log home. We check to see what type of wood was used in constructing your home. We also check for any places of rot.  Once we look at the wood we then check to see if any previous stain or sealer has been applied to your home. We then get measurements and go over in detail the steps needed to make your home look new again.
Removing Gutter Downspouts and Prep Work
Before we begin the restoration process we remove the gutter downspouts, lights, fans and anything else that needs to be removed from the exterior of the structure in order to properly refinish all of the wood that could be exposed to the elements.
Media Blasting or Chemical Stripping 
The first step in the restoration process involves sand or media blasting with recycled crushed glass.  The condition of your logs and the existing stain will determine which option is best.  The media blasting process can remove the old coating, gray UV damaged wood and mildew. This is a dry process and works great on many coatings and grayed wood fibers. This is one of the best ways to prep a log structure for refinishing.
Our second option is using environmentally friendly specialty cleaners.  In order for your home to look like new again you have to expose new wood. Based on what we found in the initial inspection we know what chemicals to use and at what strength.  Once applied the cleaners will begin to soften and liquify the old degraded finish, soften dead grayed UV damaged wood fibers, kill mold and mildew and eradicate surface contaminants like dirt, dust, and pollen.  We then use low pressure water from our commercial pressure cleaning equipment, usually 500-1000 psi to remove the old finish(if needed), mold, mildew and dirt. Revealing new wood!
Neutralize/Brighten Wood
You won't hear many painters talking about PH but it's a big deal when you are using cleaners and other professional chemicals to clean wood. Because these cleaners are highly alkaline on the PH scale we need to use a chemical neutralizer to help balance the PH of the wood. Many painters have no idea what this step is and it makes a big difference in your final finish and how long it will last.  When the Brightener is applied you can literally start to see the wood change colors right before your eyes.
Buffing, Sanding and Other Prep
Once the home has been fully cleaned only then can we really begin our prep work on your log home in preparation for new paint or stain. Our professionals will now proceed to buff every square inch of your entire home. We use professional buffers with buffing brushes attached that remove texture from the media blasting process or "wood fuzzies" from the chemical stripping process.
Borate Preservation
The next step of the refinishing process involves applying a borate solution to all exterior logs, porches and exterior beams.  This is a vital step and one that should only have to be done one time for the life of the house.  This is a permanent treatment that will keep wood damaging insects away from your home, and it also helps to prevent and kill rot.  Once the stain is applied it seals in the borate.
What About Caulking And Chinking?
When restoring or refinishing a log home, caulking and chinking are applied after the stain.  Caulking and chinking are flexible textured compounds specially formulated to fill in the spaces between the logs.  This helps stop airflow from entering the home, and also helps to prevent water and bug damage.  Poor chinking or caulking is one of the leading causes of water damage and log rot, which is why it is especially important to have it applied by a professional.
Caulking is used in joints that are less than 1", which allows for a quicker drying time.  For larger gaps, chinking is used.  It contains sand which gives it strength and allows for better adhesion to the logs.  Chinking also requires a longer curing time. When applied correctly, caulking and chinking provide essential protection against the elements, insects and other pests.
What Finish Or Stain should I Use On My Log Home?
We understand the properties of wood, stain formulations and what makes one better than another in certain situations.  There are a number of factors to determine which is best for each specific home.  We will find out what you are looking for and explain the pros and cons of each type of finish. There is NO one finish that is best! It is extremely important to have whichever stain you choose applied by professionals to maintain the log home's appearance and protect the wood.
Finally, when deciding on a finish, homeowners must also decide how they want their stain to look. If you want a sheen to the logs, i.e. satin or gloss. We can use a combination stain with a clear coat.  With a number of stain options available, our experts are able to help you choose the ideal finish for your home.
Why Choose Copper Mountain Painting To Refinish Your Log Home?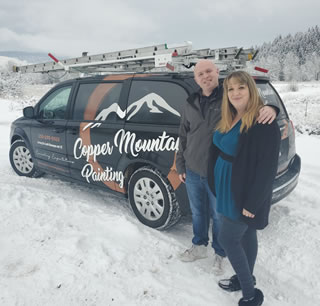 When you choose Copper Mountain Painting to refinish your log home you're partnering with a team of professional painters with decades of combined painting experience.   Both of us (Nikolas and Lisa) have over 20 years combined experience in the painting and coating industry.
We have a solid track record of happy and satisfied customers, many of them calling on us again and again for their painting needs and also referring us to their friends and family.  It's through the quality of our work that our business continues to grow.
Owners (Nikolas Hastein and Lisa Machon) are present on every project and take great pride in the work that Copper Mountain Painting completes in our customers homes.  We care about your log home and we want to make sure we do the best job we possibly can.  We provide unbeatable value, we keep your home and property spotless, our pricing is fair, and the quality of our finished log home refinishing work is unmatched.
If you'd like to schedule an estimate to refinish your log home then give us a call (250) 295-5925 or fill out our online contact form and we'll get right back you.