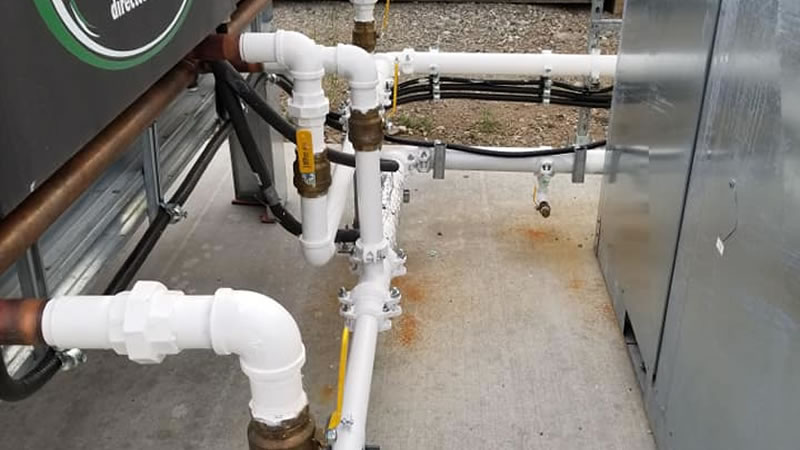 Sand Blasting and Industrial Coating Services
Do you own or manage a busy industrial facility, manufacturing plant, chemical or gas plant, or storage warehouse in the South Okanagan? If so, you are no stranger to the expensive maintenance and upkeep these facilities require.  Reducing overhead and annual maintenance costs is important to your operation.  One way industrial operations can shave costs is by placing importance on the longevity of their equipment and facilities.  Industrial coatings when properly applied can add years of service.
Copper Mountain Painting works in a variety of industrial settings, providing high performance industrial painting and coating services on interior and exterior projects throughout the British Columbia.
One of our owners Nikolas Hafstein is NACE CIP3 certified and is highly skilled and experienced in corrosion, surface preparation, cleanliness, environmental conditions, test instruments, coating mixtures, and safety with regards to these types of projects.  Whether you need to paint a metal storage building, add a new tank liner, or paint complex oil or gas piping, we'll be able to help.
Industrial Coating Inspections
As we are NACE CIP3 certified we also provide industrial coating inspection services for existing coatings that need to be inspected on a regular basis or to ensure your painting contractor is applying the coatings correctly for the type of materials and environment the coatings will be exposed to.
Industrial Coatings Can Be Highly Specialized
These types of large scale industrial painting projects aren't something your standard house painting contractor can complete. Highly specialized environments require intimate knowledge of the wide range of coatings on the market and their very specific applications. Copper Mountain Panting has the equipment, experience, and processes in place to help our customers avoid wasteful spending at their facility.
Industrial painting and coating projects require well-trained staff ready to work in a variety of dangerous environments including heights. We maintain our own safety equipment and can operate specialty equipment such as buckets and lifts when a project requires them.  Located in Princeton, BC we are positioned to provide our industrial coating services throughout the Southern Okanagan.
Plant and Manufacturing Facilities
Steel Buildings, Metal Roofs and Siding
Structural Steel
Tank Linings
Lead Paint Abatement
Machinery and Equipment
Concrete Floor Coatings
Floor Line Painting
Storage Tanks and Silos
Surface Preparation (Sand Blasting) is Critical with Industrial Painting
Our experienced painting crew is well versed in the appropriate methods of surface preparation in a variety of challenging industrial environments.  With these types of projects it's not uncommon to have many layers of old paint, rust, and various surface contaminants that would otherwise prevent paint from properly adhering to the surface.  These contaminants must be properly removed prior to painting or coating.
The surface preparation methods we often use include:
Sand and Media Blasting
Power Washing
Chemical Treatments
Sanding and Abrasive Materials
Types of Paints and High Performance Coatings We Work With
We are experienced and well versed on the current industrial coatings on the market, and how and where they should be applied for maximum benefit.  We help facility owners or managers decide which coatings or paints will be the best choice for their working environment.
Multi Part Epoxies
Oil and Latex Based Paints
Rust Coatings
Urethane Coatings
Non Slip Coatings
If you have an industrial building or facility that needs to be painted in the South Okanagan then give us a call today (250) 295-5925 or fill out our online contact form and we can arrange for your estimate.